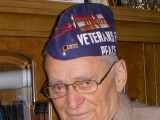 Nicholas in January 2013, wearing his Veterans for Peace cap with his Soviet Red Army service ribbons pinned on.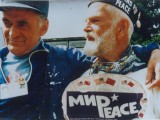 Nicholas with Billy Lieb, a U.S. veteran of World War Two who manned a self-propelled gun in the American First Army. On 25 April, 1945, Billy was among those G.I.s who met soldiers of the Red Army's First Ukrainian Front at Torgau on the Elbe River, thus cutting Nazi Germany in half. The two veterans took part in three marches for peace together in the 1980s and became good friends.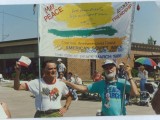 Nicholas and Billy Lieb somewhere between San Francisco and Los Angeles, July 1988. Billy made the banner in 1986 in California during the Great American Peace March of 1986. He brought it to Leningrad in 1987 for the first Soviet-American March from Leningrad to Moscow. It was with him during the second Soviet -American march in 1988 from Washington D.C. to San-Francisco. Nicholas and Billy joined forces for a third Soviet-American peace march (carrying Billy's banner) from Odessa to Kiev, also in 1988.